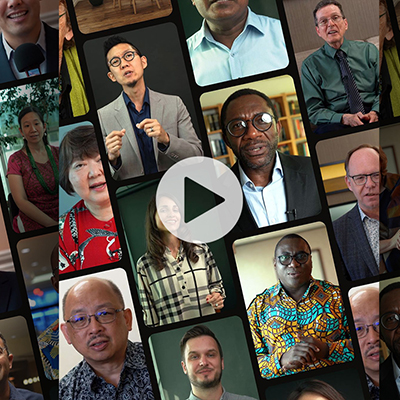 Across the world today, men and women are faithfully stewarding God's call as leaders and people of influence in organizations, churches, schools, and marketplaces. What would happen if these men and women were to gather together to form God-inspired, catalytic connections within and across regions, generations, shared interests, and ideas? This is the unique calling of the Lausanne Movement: to connect influencers and ideas for global mission.
In his travels around the world, Billy Graham met many leaders who were disconnected from each other. He felt called to bring these leaders together, thus beginning a movement of connections marked by a spirit of humility, friendship, prayer, study, partnership, and hope, which Graham called "the spirit of Lausanne". It is in this spirit that world congresses, global gatherings, and issue-specific forums and consultations have been convened for over 40 years, resulting in numerous connections, initiatives, and resources.
---
Today the Lausanne Movement connects influencers across three spheres:
Ideas
Lausanne has diverse issue networks, each led by Lausanne catalysts and centered around a pressing missional opportunity or challenge. These smaller groups of influencers focus on a critical mission topic like the Diasporas, Children at Risk, and Business as Mission.
Explore Lausanne Issue Networks
Regions
From East Asia to Latin America, Francophone Africa to Oceania, our regional directors help facilitate connections for mission and give leadership to Lausanne's initiatives across 12 continental or sub-continental regions.
Generations
Younger Leaders Gatherings (YLG) bring together influential evangelical leaders between the ages of 25-35, connecting participants with each other and with other senior global leaders to build up the next generation of influencers. The first two YLGs were held in Singapore in 1987 and Malaysia in 2006, and the third YLG was held in Jakarta, Indonesia, in 2016 (YLG2016).
In conjunction with YLG2016, a new initiative called the Younger Leaders Generation (YLGen) was formed. Over the span of ten years, YLGen will work to build connections across generations by walking alongside younger leaders and connecting them more intentionally to Lausanne issue networks, regions, missional resources, and mentors, as well as to one another through peer groups.
---
In all this, we continue to envision and work toward a world in which there is:
The gospel for every person
Disciple-making churches for every people and place
Christlike leaders for every church and sector
Kingdom impact in every sphere of society
An invitation to connect
The Lausanne Movement is not an organization, but an organic movement without formal membership structure. Wherever you are in the world, if you're passionate about mission, we invite you to explore the many ways you can connect with the Lausanne Movement.
Get Connected with LausanneLearn about Lausanne's History and Legacy